Measure, Understand and Intervene
We are a Learning Analytics Organisation providing End2End data services to monitor & improve academic performance, behaviour and social-emotional wellbeing in K-12 schools.
Introducing our flagship product
We are completely aligned with "Manodarpan, an initiative by the Ministry of Education, as a part of Atma Nirbhar Bharat Abhiyan", to address mental health and well-being concerns of school-going students and educators
A unified Social-Emotional Learning platform for academic, behavioural and student success needs
ACHIEVE BETTER STUDENT OUTCOMES WITH......
Gather 360° feedback about the education experience from students, families and management.
Capture the voice of your school community through our Multi-lingual Gamified Surveys and motivate students through the rewarding system.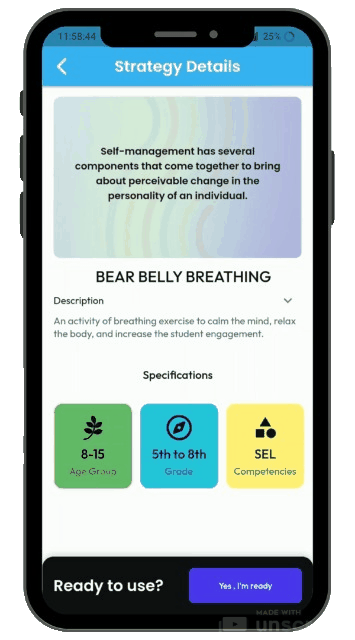 Educators can move from measurement to action with our extensive Intervention Library.
Our playbook consists of Interactive activities & Evidence-Based strategies to use with their students.
User-friendly dashboards for educators and admin to get a detailed view of students' growth patterns, the correlation among academics, SEL and attendance.
Early warnings, timely insights and reports save time and effort.
A personalised behavioural report for parents that provides actionable information and to-the-point insights on factors affecting their child's academic & social-emotional growth.
Our reports help build communication and let parents give much-needed attention to their children in the required areas.
Value-Added benefits of SEL
Point Gain In "Academic Performance"
Participation in an SEL program compared to not doing an SEL program in a school.
more students would improve their academic performance
more students would gain in their skills levels
more students would have improved social behaviors and lower levels of distress
more students would have improved attitudes
more students would show fewer conduct problems
Stakeholders can now access the relevant information that caters to their specific needs.
Analysis of teachers' and students' performance w.r.t. Academics and SEL.

Overview of parents' feedback about School Climate and Teacher-Parent Relationship.

Monitor progress of Intervention Strategies implementation.

A forum to interact and share data with admins and teachers.

Get comparative and competitive analysis against other franchisees.
Identify at-risk students through the Early Warning System.

Allocate relevant intervention to respective tiers/groups.

Summarized graphs about students' Academic, SEL & Attendance.

Drill down a specific student's detailed analysis.

Automatic formation of student clusters for better peer learning.

Teachers Forum.
Summary of academic factors and attendance affecting child's Social-Emotional skills.

Real-Time tracking of applied intervention on their child.

Actionable information & to-the-point insights as per child's overall growth pattern and trends.
Technology and Data Security
*We follow GDPR Compliance
Subscribe to our newsletter
to get all the updates and news about SEL Suite